Fostering Youth and Encouraging Women
After his inauguration as second President of the Soka Gakkai, Toda dedicated himself more and more to encouraging members, focusing especially on young people and women.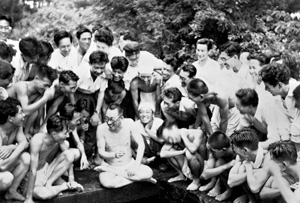 Toda with youth division members at a swimming
meet, 1953
This was a highly innovative approach as Japanese society at that time was male-dominated and based upon seniority.
After its defeat in World War II, Japan was in a state of chaos: value systems had disintegrated and people were emotionally devastated. Aiming to teach people how to develop their potential by confronting reality, Toda focused especially on young people who had lost their way, and on women whose social status was inferior to men.
Toda inaugurated the women's division in June 1951. He sought to encourage women to expand their horizons, finding ways to inspire in them a broader perspective. He also repeatedly encouraged young women, expressing his heartfelt wish for each and every one of them to become happy. Toda believed that a spreading solidarity of women creating value amid the realities of daily life would be a sure foundation of lasting peace throughout society.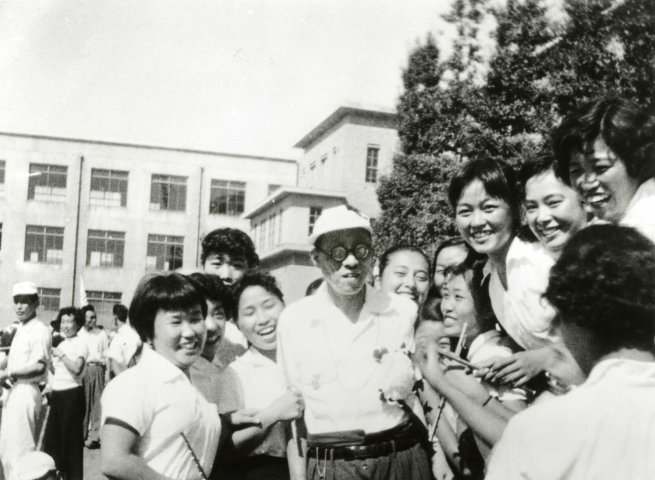 Chatting with young women's division members, 1956
Toda inaugurated the young men's and young women's divisions in July 1951. The establishment of the youth division was immensely significant, vitalizing every part of the organization. These changes established lines of communication and coordination within the organization, helping develop a sense of shared responsibility.
Japan at the time was a conservative society where age and gender were key factors in determining status, but Toda made it possible for women and young people to play a vital role, rather than just having older men in charge. This was a progressive and imaginative step. The energetic and enthusiastic members of the youth division quickly became the driving force for local Soka Gakkai activities within each chapter.
The intellectual historian, Kiyoshi Shimane, wrote about Toda's approach to fostering youth as follows:

"The desire of President Toda to foster the next president from the youth division demonstrates his rejection of a hereditary system for choosing the organization's top leadership. This was also the desire of Tsunesaburo Makiguchi, the first president of the Soka Gakkai, and President Toda put this into action deliberately."
In a key message dedicated to the youth division, Toda grieved the spread of social unease and instability, declaring that the purpose of Nichiren Buddhism is to overcome such adversities and liberate people from misfortunes.
Toda constantly encouraged young people to make time to read and think deeply. He organized training sessions for select groups of young men and young women, called Suikokai and Kayokai, respectively, where literary masterpieces of all ages and cultures were studied. Through this process, Toda trained and fostered numerous young people and cultivated their character.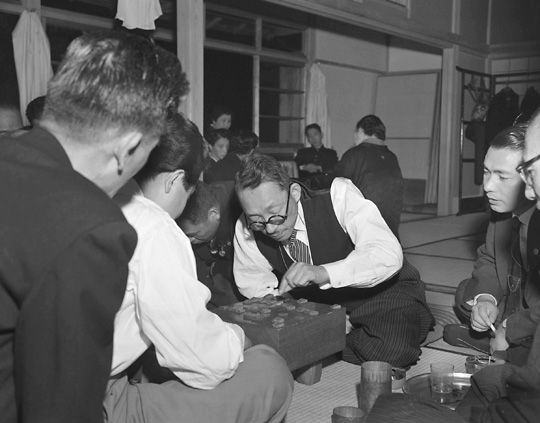 Playing shogi (Japanese chess) with youth division members, 1956
Toda's approach to these issues of leadership and responsibility, radical in his time, are maintained by the Soka Gakkai to this day, and the continuous development of the organization is based upon fostering youth and treasuring the role and contributions of women.