Early Years (1900-20)
Jin'ichi Toda, who was later to be known as Josei Toda, was born on February 11, 1900, in what is now Kaga city, Ishikawa Prefecture, Japan, the seventh son of father Jinshichi and mother Su'e. When he was aged two, the family moved to the village of Atsuta in Ishikari County, Hokkaido, where they operated a fishing and shipping concession. Toda was particularly influenced by one of his elder brothers, Sotokichi, who was a studious child dedicated to his studies.
Toda's childhood home in Atsuta (reconstruction)
In April 1906, Toda enrolled in Atsuta Higher Elementary School. He received instruction in reading classical Chinese from his brother Sotokichi, who devoted himself to reading works such as The Analects of Confucius as he convalesced from tuberculosis at home. Sotokichi, however, passed away when Toda was eight years old. Toda became an avid reader himself, influenced also by his father's taste in epic fiction.
Toda graduated from Atsuta Higher Elementary School's junior course in March 1912, and entered its senior course in April the same year. Encouraged by a teacher with literary inclinations, he began to voraciously read works of literature and philosophy. In March 1914, he graduated from the senior course with the highest marks.
The school principal and others tried to persuade him to continue his education, but he left school because his family was looking for someone to inherit their business. After a brief stint in the family business, Toda began working in a general store, Koroku Shoten, in Sapporo, Hokkaido, in July 1915, recommended for the post by his eldest brother Tozo.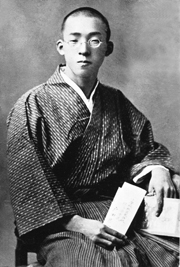 Aged 17, holding his teaching license
However, after visiting Sotokichi's grave in 1917, he resolved after all to succeed to his deceased brother's aspiration and become a teacher. Studying while he could when working, Toda passed the examinations for a provisional teaching license. After obtaining the teaching certificates for an elementary school associate teacher and a full-time teacher, he began teaching at Mayachi Elementary School in Yubari, Hokkaido. Around this time, to mark the start of a new stage in his life, he assumed the name Jogai.