Overview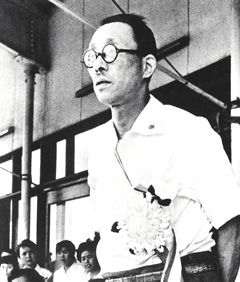 Toda in 1957
Josei Toda never traveled outside of Japan, but he was acutely aware that the ideas and aims he was espousing were applicable on a global scale: indeed, they were framed with a worldwide vision, and it was integral to Toda's plans that they would ultimately spread to the entire world. This project he entrusted to his successor, Daisaku Ikeda, and the youth members of the Soka Gakkai.
This was something he explicitly stated in his historic declaration calling for the abolition of nuclear weapons, which he made in 1957, the year before his death. In this declaration, he looked at the nuclear issue not from the viewpoint of cold war politics and ideology, as was the case for most of his contemporaries in Japan, but from a deeper understanding of the inner functions of human life. He saw the abolition of nuclear weapons as an integral part of the process of inner transformation, which he understood as the key to eliminating misery from the world.
During his lifetime, Toda stood up for universal values such as the freedom of speech and the freedom of religion through his struggles against the militarist authorities who were seeking to suppress these fundamental human rights in their efforts to strangle the expression of dissent during the war. His refusal to compromise these basic freedoms serves as an inspiration and example for people living today.
As Soka Gakkai president, Toda's ideas were never limited to the narrow confines of nationality, but looked to a common human identity where all people see themselves as citizens of the world. And it is based on this vision that Toda's movement for human revolution and inner transformation has been inherited by Soka Gakkai members throughout the world, striving as global citizens to build peace in their respective communities and societies.