Succession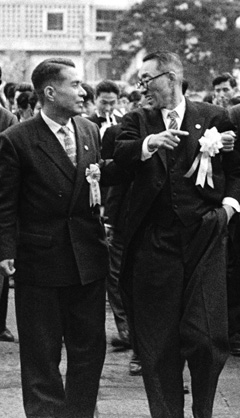 Toda and Ikeda, March 1958
In part due to his taxing efforts to reconstruct the Soka Gakkai, Toda's health had noticeably deteriorated by 1957. In November of that year, he was scheduled to go to Hiroshima to conduct a regional guidance tour but he collapsed on the day of departure.
Toda was diagnosed as having advanced cirrhosis of the liver, caused, ultimately, by the extreme malnutrition he had suffered during his two years of imprisonment during the war, and the fact that he had taken action to reconstruct the Soka Gakkai immediately on his release, without allowing himself time to restore his health. The doctor in charge ordered complete rest.
Toda confined himself to bed, but his mind was at work at all times with his vision fixed on the future of the Soka Gakkai. At the end of December 1957, after achieving his lifetime pledge of a membership of 750,000 households, Toda expressed his determination for further growth to his disciple, Daisaku Ikeda: "Daisaku, I want to fight to accomplish a membership of two million households over the next seven years. Yes, I'd like to reach two million--Daisaku, can you do it?" And, the next year on February 10, one day before his 58th birthday, he declared: "There's no time like the present! Can we achieve three million?"
Later, Toda also recounted to Ikeda that he had dreamed of traveling to Mexico. "Everyone there was waiting. Daisaku, the stage for your activities is the entire world!" He was determined to pass on the mission to realize world peace to his disciple and successor, Daisaku Ikeda.
This determination to spread the teachings of Buddhism for the sake of people and society became a final instruction that Toda bequeathed to Ikeda.
At the same time, concerned that, with the growth of the organization, the members might lose sight of the purpose and meaning of faith, Toda set out three guidelines in faith to help people always strive to maintain a correct attitude toward faith and attain happiness:

"Faith for a harmonious family
Faith for each person to become happy
Faith for surmounting obstacles"
These three guidelines were announced at the organization's leaders meeting in December 1957, alongside the announcement of the achievement of a membership of 750,000 households.
In March 1958, Toda supervised a pilgrimage to commemorate the completion of the Grand Lecture Hall on the grounds of the head temple, Taiseki-ji. Some 7,000 members visited Taiseki-ji from all over Japan every day for a month. Although Toda had triumphed over his illness and was no longer confined to his bed, he was substantially weakened. Toda knew that his life was coming to an end.
Toda entrusts the youth division with the mission of achieving kosen-rufu, March 16, 1958
On March 16, he organized a meeting at which 6,000 members of the youth division gathered at Taiseki-ji. He encouraged them with all his might, bequeathing his spirit and responsibility for the achievement of kosen-rufu to the youth division in general and to Daisaku Ikeda specifically. March 16 has since been one of the most solemn and profound anniversaries within the Soka Gakkai.
On April 2, two weeks after the ceremony with the youth division, Toda passed away peacefully, as if going to sleep.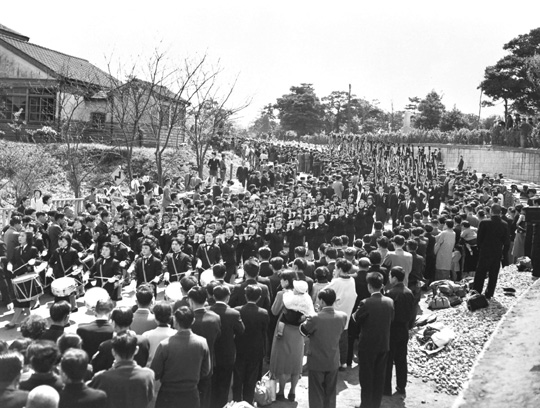 Toda's funeral, April 20, 1958