Inheriting the Vision of Soka Education
The concept of Soka (value-creating) education is now being put into practice in many parts of the world. The key to the fact that this educational philosophy is now being implemented in the classroom lies in the deep resolve of Josei Toda. Toda himself had practiced the educational theory of his mentor Makiguchi before the war, and it was Toda who passed this vision down accurately to his disciple Daisaku Ikeda.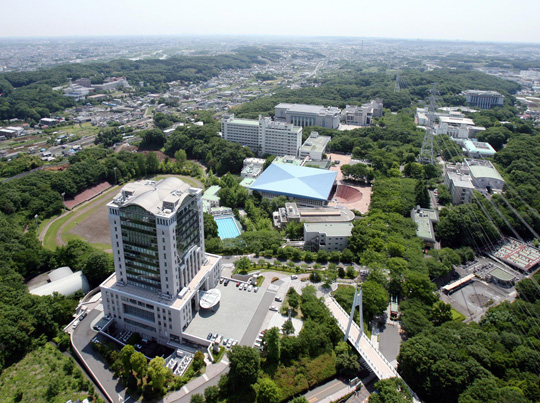 Soka University (Tokyo)
In the late autumn of 1950, 20 years after the publication of The System of Value-Creating Pedagogy, Toda was facing extreme difficulty in rebuilding his businesses that had failed during his imprisonment during the war. One by one, his employees left him, and his situation seemed hopeless; only the young Ikeda remained by his side.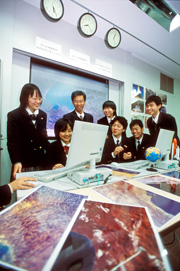 Soka students taking part in a
NASA educational project (Osaka)
Even under these dire circumstances, Toda made the time to share his vision for the future with Ikeda, who was supporting him in all his endeavors. Part of that vision was to further develop the value-creating educational theory and to establish a university. One day he said to Ikeda, "Daisaku, let's establish a university, Soka University. I hope this can be achieved in my lifetime, but that may not be possible. Should that be the case, Daisaku, I'm counting on you to do it. Let's make it the greatest university in the world."
Toda had inherited the same instruction for posterity from Makiguchi: "In the future, I will certainly create a school based on the value-creating pedagogy that I am researching. If it cannot be started in my lifetime, it will be in Toda's lifetime. There will be a school system from elementary through university level based on the value-creating pedagogy."
More than anyone, Toda was keenly aware of Makiguchi's desire to found a school, a dream cut short by the persecution of the wartime authorities. Tormented by his financial plight, which made it impossible for him to carry out Makiguchi's wishes, he in turn bequeathed the vision to Ikeda.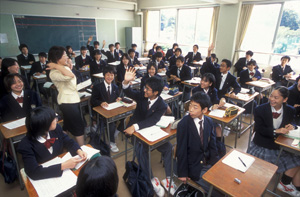 Soka students (Tokyo)
The long-cherished plan of both Makiguchi and Toda was finally realized when Ikeda founded Soka Junior and Senior High Schools in Kodaira, Tokyo, in 1968, and Soka University in 1971.
In the history of value-creating education, Toda's role was of the utmost significance, connecting Makiguchi's ideas to their materialization under Ikeda, through his actions and unwavering determination.