"Music, Power and Liberty" Conference Held in France
February, 4, 2012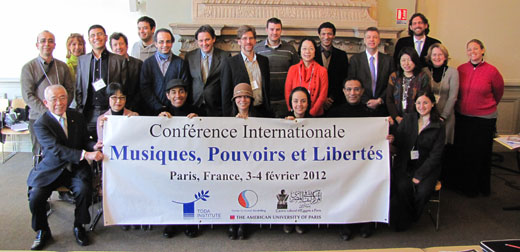 Participants of "Music, Power and Liberty," an international conference on the power of music for peacebuilding, held in Paris, France, on February 3-4, 2012
The Toda Institute for Global Peace and Policy Research co-organized "Music, Power and Liberty," an international conference held in Paris, France, on February 3 and 4, 2012. Cosponsored by The American University of Paris' Department of Global Communications, the Egyptian Cultural Center in Paris, and the Center for Global Nonkilling, the conference brought together scholars and specialists from 11 countries in Europe, Africa, North and South America, and Asia.
The Paris conference is the third in a series organized by the Toda Institute to discuss and evaluate the contributions of the arts, particularly music, to peacebuilding and social change, with the first convening in Madrid, Spain in 2005 followed by the second in Tunis, Tunisia in 2010. This 2012 conference commemorates the 60th anniversary of Josei Toda's declaration of his concept of global citizenship on February 17, 1952. Toda believed human beings should first and foremost be loyal to humanity as a whole, and not to a specific nation or ideology.
Dr. Olivier Urbain, director of the Toda Institute, read a message from Daisaku Ikeda, president of Soka Gakkai International and founder of the institute. Ikeda wrote: "I believe it is an incontrovertible fact of history that music and songs serve as a force driving people onward in their struggle to win freedom and social reforms." He continues: "The medium of music awakens people to hope, its emanations stirring us with the conviction that even the bitterest winters invariably turn to spring . . . The contributions of music in a world adrift in deepening uncertainty have thus assumed even greater importance now than ever before."
A reception in honor of the conference was held on February 2, with Nestor Torres, the celebrated flutist and Latin Grammy Award winner, delivering the keynote address, following a warm welcome by Celeste M. Schenck, president of The American University of Paris..
[Adapted from an articles in the February 7 and 10, 2012, issues of the Seikyo Shimbun, Soka Gakkai, Japan]