Global Visioning Conference Held in Morocco
February 5, 2011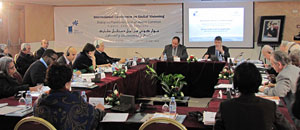 Toda Institute holds "Global Visioning" conference in
Morocco, February 4-5, 2011
The Toda Institute for Global Peace and Policy Research held an international conference titled "Global Visioning for a Common Future: Hopes, Challenges and Solutions" in Rabat, Morocco, on February 4 and 5, 2011. Cosponsored by the Morocco-based Muhammadan League of Scholars, the conference brought together key experts from diverse backgrounds.
The conference commemorated the 15th anniversary of the establishment of the Toda Institute, and its theme was inspired by the idea of creating an office of global visioning within the UN to project and anticipate future trends, suggested in the 2009 Peace Proposal by Daisaku Ikeda, the Institute's founder.
Opening addresses were given by Dr. Ahmed Abaddi, secretary-general of the Muhammadan League of Scholars and a key figure in the promotion of human rights, culture and education in Morocco, who stressed that the fundamental purpose of religions is to contribute to people's happiness, and Dr. Olivier Urbain, director of the Toda Institute, who focused on the key elements of inner transformation, dialogue and global citizenship. A message from Mr. Ikeda was introduced in which he stated that the current crises facing humanity present us with an opportunity to enact meaningful change and build a global community coexisting in peace and harmony.
On the second day, participants discussed two themes: "Education and Development" and "Civil Society and Nonviolence." Speakers included Simon Xavier Guerrand-Hermès, president of the Guerrand-Hermès Foundation for Peace, Ela Gandhi, granddaughter of Mahatma Gandhi and chancellor of Durban University of Technology, and Lawrence Carter, dean of the Martin Luther King Jr. International Chapel at Morehouse College in Atlanta, USA..
[Courtesy of an article appearing in the April 2011 issue of the SGI Quarterly; also carried in the February 11, 2011, issue of the Seikyo Shimbun, Soka Gakkai, Japan]