Nuclear Abolition Exhibition Commemorates 50th Anniversary of Josei Toda's Antinuclear Declaration; "People's Decade" Website Launched
April, 2009

Exhibition opening at the UN European Headquarters in Geneva in April 2008 (left) and in Oslo in April 2009 (right)
In 1957, Josei Toda, second Soka Gakkai president, publicly condemned the use of nuclear weapons as an absolute evil under any circumstances during a meeting of Soka Gakkai's youth members at Mitsuzawa Stadium in Yokohama, Japan. This declaration, and Mr. Toda's call for the youth to work for the abolition of nuclear weapons, became the basis of the Soka Gakkai's global peace activities. In September 2007, commemorating the 50th anniversary of his historic declaration, and following a proposal by SGI President Ikeda, the SGI launched an initiative called the "People's Decade for Nuclear Abolition" to revitalize the popular will toward nuclear weapons abolition in collaboration with various international antinuclear organizations.
As part of this campaign, the SGI created a new exhibition, "From a Culture of Violence to a Culture of Peace: Transforming the Human Spirit," which emphasizes the inhumanity of nuclear weapons and their incompatibility with human security. In April 2009, the exhibition was held in Oslo, Norway, in conjunction with a seminar on "Nordic Initiatives for Nuclear Abolition," held at the Nobel Institute. The events were organized by SGI together with the International Peace Research Institute, Oslo (PRIO) and the Norwegian Institute of International Affairs (NUPI). More than 120 guests attended the exhibition opening at the Oslo City Hall Gallery, including former Prime Minister Kjell Magne Bondevik, current Foreign Minister Jonas Gahr Støre, disarmament experts, ambassadors and diplomats from 18 countries, and NGO representatives.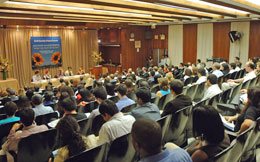 A Civil Society Peace Forum in New York City in
September 2007 commemorating Toda's antinuclear
declaration
The exhibition was first opened in New York in September 2007, and has since traveled to various cities in more than 13 countries including Switzerland, Norway, New Zealand, Malaysia, Canada and Serbia. In April 2008, it opened at the United Nations European Headquarters in Geneva, Switzerland, in conjunction with the second session of the Preparatory Committee of the Treaty on the Non-Proliferation of Nuclear Weapons (NPT), with UN High Representative for Disarmament Affairs Sergio de Queiroz Duarte and other guests in attendance.
The SGI has also recently produced a DVD entitled "Testimonies of Hiroshima and Nagasaki: Women Speak Out for Peace" in five languages; English, Spanish, French, Chinese (traditional and simplified), and Japanese. It presents the experiences of women survivors of the atomic bombings of Japan who were interviewed by the Soka Gakkai Women's Peace Committee. The testimonies in the DVD are a powerful portrayal of the inhumanity of nuclear weapons, bolstering the call for the abolition of these indiscriminate weapons.
The DVD and the exhibition "From a Culture of Violence to a Culture of Peace: Transforming the Human Spirit" are available to NGOs and other organizations for use as public educational tools and for peace education in schools.
An official English website for the People's Decade for Nuclear Abolition has also been launched. The exhibition panels and DVD can be viewed on the website, which also presents commentary on nuclear issues from a range of experts, facts and news about nuclear issues, and other resources. The text of Josei Toda's antinuclear declaration is also available on the site. [URL: https://www.peoplesdecade.org]
[Adapted from articles in the April 15 and 19, 2009 and May 8, 2008 issues of the Seikyo Shimbun, Soka Gakkai, Japan]