Commemorative Events Mark Josei Toda's 110th Birth Anniversary
February 11, 2010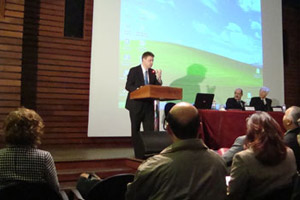 Director Urbain of the Toda Institute addresses the audience
at the conference "Music for a Universal Consciousness of
Solidarity" in Tunis, Tunisia
February 11, 2010, marked the 110th birth anniversary of second Soka Gakkai President Josei Toda. During the month of February, various commemorative events were held in Japan and overseas.
From February 6-8, the Toda Institute for Global Peace and Policy Research, headed by Director Olivier Urbain, and the President Ben Ali Center for the Dialogue of Civilizations and Religions, headed by Chair M'Hammed Hassine Fantar, co-organized an international conference titled "Music for a Universal Consciousness of Solidarity" in Tunis, Tunisia. Scholars and experts in cultural and academic fields from North African nations, Europe and the Middle East participated in the event.
Dr. Fantar spoke on the significance of the collaboration between the Ben Ali Center, one of the Muslim world's leading research institutes, and the Toda Institute. Dr. Urbain stated that Josei Toda's peace ideals are exemplified by his "Declaration Calling for the Abolition of Nuclear Weapons" as well as his vision of "global citizenship" for enabling people to transcend national and cultural distinctions and live in peaceful coexistence.
In a congratulatory message, Tunisian Minister of Culture Abderraouf El Basti expressed his delight in learning about the research project on culture and peace, stating that culture significantly influences not only art but also international diplomacy and human development. "We must make the twenty-first century a century of peace, coexistence and tolerance," he affirmed.
On February 11, two commemorative lectures were held at the Ishikari Culture Center in Hokkaido, Japan. Masayuki Shiobara, general manager of Soka University's Soka Education Research Institute, spoke on "Josei Toda--A Great Mind Cultivated in Atsuta." Referring to the correlation between Hokkaido's vast wilderness and Toda's character, he discussed Toda's spiritual struggles against Japanese militarism during World War II.
On the same day, the antinuclear exhibition "From a Culture of Violence to a Culture of Peace: Transforming the Human Spirit" opened at the Hokkoku Shimbun Akabane Hall in Kanazawa City, Ishikawa, Japan. Created in 2007 by the SGI to commemorate the 50th anniversary of Josei Toda's historic 1957 declaration in which he called for the abolition of nuclear weapons, the exhibition has been touring various countries throughout the world. Hidekazu Tobita, president and chief editor of the Hokkoku Shimbun, paid tribute to Soka Gakkai's half century-long campaign for the elimination of nuclear weapons.
[Adapted from articles in the February 11 and 12, 2010, issues of the Seikyo Shimbun, Soka Gakkai, Japan]