Soka Gakkai Women's Peace Committee Sponsors "Culture of Peace Forum for Mothers and Children"
September 9, 2007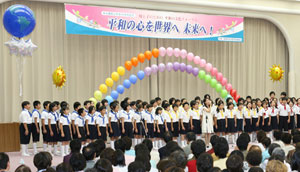 Agnes Chan (center) sings with
the Soka Gakkai Fuji Boys and Kibo Girls Chorus
On September 9, 2007, the Soka Gakkai Women's Peace Committee (WPC) hosted a "Culture of Peace Forum for Mothers and Children" at the Soka International Friendship Hall in Sendagaya, Tokyo. Some 1,200 people, including elementary school children and atomic bomb survivors, attended the event which commemorated the 50th anniversary of second Soka Gakkai President Josei Toda's declaration calling for the abolition of nuclear weapons.
In a message, SGI President Daisaku Ikeda deplored the fact that it is always women and children who are the victims of war and lauded the WPC's work to heighten awareness of peace issues through various exhibitions and forums. Concurring with Dr. Elise Boulding, renowned American peace activist and sociologist who firmly believes peace begins in the home and in the community, Mr. Ikeda affirmed that mothers' compassion is the driving force of a culture of peace. Mothers, through their actions and efforts, serve as good role models for their children.
Masako Tanimura, a Hiroshima hibakusha (atomic bomb victim), relayed her tragic experience of the bombing. Akiko Yoshitake, whose grandmother was a Nagasaki hibakusha, shared her perspective on peace. WPC Chair Akemi Tsukiji also spoke.
Hong Kong-born Agnes Chan, a Japanese pop singer and university professor, spoke about her activities as a UNICEF Goodwill Ambassador and her recent meeting with children in Iraq at risk from depleted uranium exposure. She also shared her personal views on peace as a mother of three boys. Ms. Chan performed two songs, "Happiness is Just Around the Corner" and "Peaceful World," accompanied by the Soka Gakkai Fuji Boys and Girls Chorus. The songs' lyrics come from a poem about peace written by SGI President Daisaku Ikeda, in which he affirms that "life is the greatest treasure among all treasures." Based on what she felt was a shared belief, Ms. Chan received permission to adapt the poem to the lyrics of her theme song, written last year, which also commemorated her debut in Japan 35 years ago. Ms. Chan stated, "This song is not for myself. I want to share the message of peace with as many people as possible."
Other recent WPC activities have included the September 11 "Children and a Culture of Peace" exhibition, which highlights important social issues such as the high rate of bullying, abuse and even suicide among children in Japan, opening for a one-week showing at the Hoku Topia Hall in Kita Ward, Tokyo.
During 2007, the WPC has sponsored a nationwide tour of its culture of peace exhibition and forums, as well as promoting the DVD "For the Sake of Peace: Women's War Testimonies," published in 2006, as a peace education tool. The DVD features interviews and eyewitness wartime experiences of 16 Japanese women.
[Adapted from articles in the September 11 and 12, 2007 issues of the Seikyo Shimbun, Soka Gakkai, Japan]