SGI's Antinuclear Exhibition Opens at New Zealand Parliament
August 9, 2007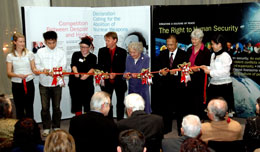 Ribbon-cutting for "The Right to Human Security"
On August 9, 2007, the SGI's "Creating a Culture of Peace: The Right to Human Security" opened at the New Zealand Parliament's executive wing, known as "The Beehive," in Wellington. The event was cosponsored by SGI-New Zealand and the New Zealand Institute of International Affairs with support from the Peace Foundation, the United Nations Association of New Zealand, the New Zealand Council for International Development and the Wellington Interfaith Council. The opening ceremony was attended by 300 guests including former UN Under-Secretary-General Anwarul Chowdhury, Green Party Co-Leader Jeanette Fitzsimons, other parliamentarians and ambassadors to New Zealand.
New Zealand was the first Western-allied nation to effectively legislate a comprehensive law completely rejecting nuclear weapons and weapons of mass destruction, making it the first country to establish itself as a nuclear weapons-free zone. This intent was further demonstrated by the symbolic holding of the antinuclear exhibition at the parliament.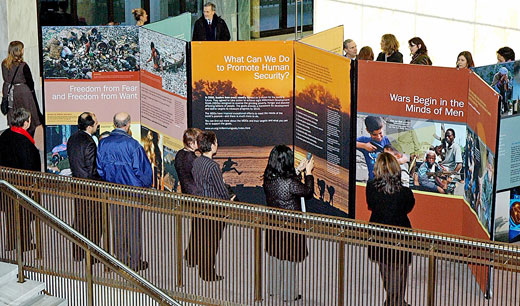 The exhibition is thought-provoking and gripping, and uncompromisingly demonstrates the real threat to human security embodied in the weapons of a culture of war. The panels starkly portray human suffering--especially in real-life terms of poverty, hunger and illness--that results from the use of weapons of war, whether they are nuclear explosives, more "ordinary" weapons such as guns, or simply the dark human impulse to dominate others. But the exhibition also demonstrates the awesome power of the human spirit to overcome fundamental ignorance innate in life through manifesting courage, wisdom, compassion and positive life force.
The SGI's antinuclear exhibition commemorates the 50th anniversary of second Soka Gakkai President Josei Toda's declaration calling for the abolition of nuclear weapons and the 20th anniversary of New Zealand's nuclear-free policy.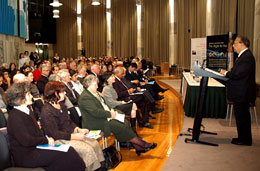 Ambassador Chowdhury speaks on the
"Right to Human Security" at the
New Zealand Parliament building
Following a congratulatory address by Member of Parliament Ashraf Choudhary, Ambassador Chowdhury delivered a keynote address in which he suggested a collective approach to creating a culture of peace, and the importance of people making day-to-day efforts to treat others with consideration. He envisioned education for peace, nonviolence and international cooperation, in which diversity between individuals, cultures and nations becomes a source of enrichment and vitalization, rather than one of tension and divisiveness. He also expressed his hopes for many young people to view the exhibition and make "the culture of peace" a part of their lives. He further expressed his appreciation for SGI President Daisaku Ikeda's dedicated efforts to promote peace across the globe, particularly noting the value of Mr. Ikeda's annual peace proposals, each one offering fresh ideas about how the UN can more effectively work for the betterment of humanity.
The exhibit was shown at Victoria University in Wellington from August 10 through 30 and then went on to tour other parts of the country.
[Adapted from an SGI-New Zealand report and an article in the August 17, 2007 issue of the Seikyo Shimbun, Soka Gakkai, Japan]