Soka Gakkai Holds Memorial Service for Nagasaki Atomic Bomb Victims
August 9, 2007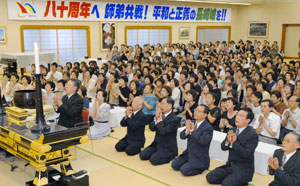 On August 9, 2007, which marked the 62nd anniversary of the atomic bombing of Nagasaki, a World Peace Memorial Service was held at the Soka Gakkai Nagasaki Peace Center. Hibakusha (atomic bomb victims) and bereaved families attended, together with representative Soka Gakkai youth of Nagasaki. Participants offered prayers for all victims of war throughout the world and renewed their pledge to contribute to the abolition of nuclear weapons and to creating lasting peace.
Mr. Shinji Takahira spoke about his experience as a victim of the atomic bombing. Mr. Takahira, then 16 years old, was at work in a factory two kilometers from the epicenter of the blast. Following an explosion accompanied by a blinding flash and an ear-splitting roar, Mr. Takahira was showered by broken glass shards as the factory roof and support pillars blew to pieces. Fortunately, he was wearing a hat that saved his life. Running frantically through the city, Mr. Takahira witnessed horrific devastation-- train tracks twisted from the heat, charred remains of cows and horses and burnt victims screaming for help. The city was a veritable inferno.
In 1959, Mr. Takahira joined Soka Gakkai and began practicing Nichiren Buddhism. He learned about the Buddhist philosophy of peace and became convinced that inner, self-transformation is the only sure way to achieve global peace. In closing, Mr. Takahira expressed his urgent hope that no one would ever again have to experience an atomic bombing. He asked the young people present to take on the mission of working for global peace and security.
A youth representative read aloud second Soka Gakkai President Josei Toda's September 8, 1957 "Declaration Calling for the Abolition of Nuclear Weapons," and pledged that the Soka Gakkai youth of Nagasaki would be the vanguard in establishing a nuclear-free and warless world. Soka Gakkai Nagasaki leaders urged everyone to communicate the pacifist spirit of Nagasaki and to become protagonists in building a peaceful society, following in the footsteps of the first three Soka Gakkai presidents.
[Adapted from an article in the August 10, 2007 issue of the Seikyo Shimbun, Soka Gakkai, Japan]