Toda Peace Institute Collaborates with Chinese NGO on Peace Forum in Beijing
June 1, 2007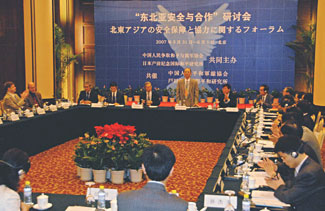 On May 31 and June 1, 2007, the Toda Institute for Global Peace and Policy Research and the Chinese People's Association for Peace and Disarmament (CPAPD) cohosted an international conference entitled "Forum on Security and Cooperation in Northeast Asia" in Beijing, China. Toda Institute representatives joined CPAPD Vice President Liu Jingqin, Secretary General Niu Qiang and other experts and researchers in the fields of peace and disarmament to discuss strengthening bilateral friendship and mutual understanding between Japan and China as well as promoting security and stability in Northeast Asia. CPAPD President He Luli and Toda Insitute founder Daisaku Ikeda sent messages for the forum, which commemorated the 35th anniversary of the normalization of relations between China and Japan. This year also marks the 50th anniversary of the declaration for the abolition of nuclear weapons advocated by second Soka Gakkai President Josei Toda, after whom the Toda Institute is named and whose peace philosophy serves as its founding principle. [CPAPD website:
http://www.cpapd.org.cn
; Toda Institute website:
https://www.toda.org
]
Founded in 1985, CPAPD comprises 24 member organizations and is the largest peace NGO in China. It has been actively engaged in exchanges with more than 300 peace research institutes in 90 countries for the promotion of peace education and research in East Asia. In particular, its activities have focused on the abolition of nuclear weapons and weapons of mass destruction, a goal shared by the Toda Institute.
In his message, Mr. Ikeda stated that his 1968 call for the normalization of Sino-Japanese diplomatic relations embodied the spirit of his mentor, Josei Toda, who trailblazed the concept of global citizenship and who dedicated his life to peace activism. Mr. Ikeda also expressed his commitment toward strengthening bilateral relations, a promise he made with Premier Zhou Enlai, when the two met in 1974, with hopes for the younger generation to open new avenues of friendship.
Following a keynote address by CPAPD Secretary General Niu Qiang, Toda Institute Director Majid Tehranian extended his appreciation to the participants and introduced projects being undertaken by the global network the institute has built.
For two days, participants presented papers and discussed topics such as "Major Powers' Role in Maintaining Peace and Security in Northeast Asia," "Six Party Talks and Prospects of Establishing a Northeast Asia Nuclear Weapons-Free Zone," "Arms Control in Northeast Asia" and "Sino-Japanese Relations."
Despite the difficult challenges that lie ahead, including historical perceptions, territorial issues, the alarming rise in nationalism and increases in armament stockpiles, the participants sought mutual ground and transcended differences toward the shared goal of global peace and security, specifically in establishing peace and security in Northeast Asia. Professor Liu Jiangyong of Tsinghua University, China, said he was impressed by the spirit of global citizenship among the Toda Institute researchers who come from varying cultural backgrounds and their dedicated efforts for Sino-Japanese friendship.
[Adapted from an article in the June 7, 2007 issue of the Seikyo Shimbun, Soka Gakkai, Japan]